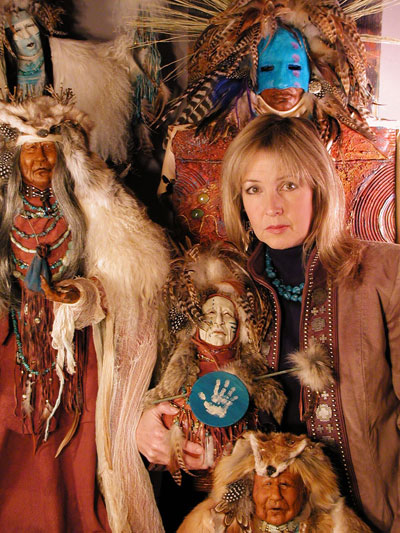 I am a mixed media artist, living in the mountain town of Ruidoso, New Mexico. Enamored with the Southwest, my work focuses primarily on the people and the animals that live here. My color palette consists of warm, rich earth tones with a splash of turquoise or red. I've been sculpting in various mediums for over forty years and every creation is different. I create each sculpture one at a time and decorate them with feathers and vintage beads and other beautiful adornments. I can't help myself, I just love the beauty of an iridescent pheasant feather, the sparkle of an old bead, the design of a button. Threads and fibers, ribbons and fringe, I add each element to make the sculpture unique. Currently I am exploring clay. I am in love with the texture and versatility of clay. Holding my breath as I open the kiln, it's like Christmas morning! My studio is brimming with paints and stains and feathers and furs and beads and found objects. My inspiration surrounds me.
My theme for 2012 is the turquoise stone and the animals that the Native Americans held sacred, all creatures great and small. I will be creating horses, bears, wolves, ravens and other creatures They don't stay available long so check back often to see the latest from my studio.
Self taught in sculpture, Misha has been creating unique figures for over thirty years. Recognized for her incredible realistic sculptures of Native Americans worldwide, she continues to create breathtaking faces with haunting eyes and fascinating faces. Recently, Thunderbird Artists of Arizona presented Misha with the Mark Wroe Award of Excellence in Art. Misha has been the recipient of several prestigious awards including the 1993 Collector's Award of Excellence in recognition for her Native American sculpture of Sacajawea.
Misha's sculptures have also been featured in books and national magazine covers. Articles about her work have been included in Southwest Art, Ruidoso Lifestyles, Gateway Magazine, and featured artist in Wild West, February 2000. The September 2003 issue of New Mexico Magazine featured Misha's sculptures in their art section. The July 2008 issue of Ruidoso magazine featured the latest body of new work from her studio including the "Little People", contemporary figures in clay.
The Hubbard Museum of the American West awarded Misha "Best Artist "in 1998 and has included her work in many of their exhibits and shows. Misha's sculptures have also been displayed at the Currier Museum of Art, Manchester, New Hampshire and The Wenham Museum in Boston, Massachusetts. Misha was invited to decorate the White House Christmas tree with her unique sculptures in 1995 and her work is now included in the Permanent Collection of American Artists in Washington DC.
The El Paso International Airport and Museum of Art selected Misha's sculptures for the exhibit titled" the Art Windows of El Paso. Misha's work will be on display from May 30th through August 31st 2011.
The New Mexico Centennial Project recently selected Misha's ceramic jewelry design for the special celebration beginning this year. Her work is represented by the Museum of New Mexico shops and New Mexico Creates.
Exploring new mediums, Misha is currently focusing on a collection of contemporary wall sculptures in high fired ceramic. Life size figures of women stand poised, as if they are about to speak. Masks painted with natural stains and pigments peer down. Ceramic figures of horses, ravens, Koshari and other mythological animals are decorated with found and unusual objects. Inspired by the contemporary glass artist, William Morris, Misha's ceramic sculptures evoke images of primitive man and their lives.
I was featured in the Ruidoso News arts section called Vamonos! in August, 2011. You can download a PDF file HERE.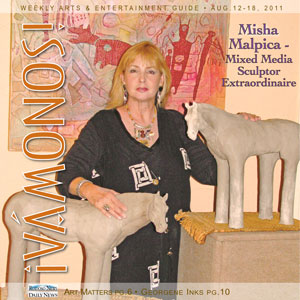 All Rights Reserved ©2013
Join us on Facebook


ABOUT MY PROCESS
"The clay comes to life in my hands. I see their faces, the memories of a lifetime reflected in their eyes. It's as if I am experiencing a glimpse into their journey, I am capturing a moment in time." Searching for my roots, I returned to New Mexico in 1995 to discover a history rich with tales of the Southwest. Driving long distances and photographing the faces of our diverse cultures, I was fascinated by the stories that they tell. My figures became more realistic and elaborate. The figures began to evoke images of the Land of Enchantment.
Turquoise nuggets, shards of pottery, the faces and bodies colored with the warm shades of the desert. Each face telling a story, capturing emotions and conveying the spirit of the person. Creating sculptures that embrace our diverse cultures and show how we are all entwined, my work captures face of people familiar to all of us.
AWARDS INCLUDE
Featured Artist - January 2001 Thunderbird Artists Carefree Fine Art Festival
Best in Show - November 2001 Weems Artfest. Albuquerque, NM
Best in Category - July 2002 Ruidoso Art Festival, Ruidoso, NM
Best in Category - July 1999 Ruidoso Art Festival, Ruidoso, NM
Recipient in of the "Mark Wroe" Award of Excellence, presented by Thunderbird Artists
March 2004 - Apprenticeship with John M. Soderberg, sculptor. Sedona Arizona
May 2005 - Featured Artist HGTV "Artists Coast to Coast" series episode 237
July 2006 - Featured and cover of Stepping Out New Mexico magazine
July 2006 - "Best of America" Mixed Media Artist book Kennedy Publications
July 2008 - Ruidoso Magazine featured artist Ruidoso, New Mexico
June 2011 - Art Windows of El Paso, El Paso International Airport
June 2011 - Museum of New Mexico selection for Centennial Project
GALLERIES
The Adobe Fine Art, Ruidoso, New Mexico
Ron Stewart Gallery, Scottsdale, Arizona
Gallery of Dreams, St. David, Arizona
Pablo Milan Gallery, Santa Fe, New Mexico
Los Artesanos, Las Cruces, New Mexico
Mountain Arts, Ruidoso, New Mexico